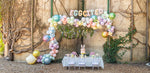 The OIP team is oh so eggcited to share with you our 2019 Easter shoot! Fun fuelled with bunnies, balloons and best friends - what more could you ask for! Styled with pastels galore, it sure has something to please every-bunny!
Our enchanted oasis was created at the Piggery Cafe, the perfect whimsical destination to explore and to hunt eggs on! Their iconic silo's aided in the beautiful creation of the flowing backdrop, with the vines intertwining with the florals and balloons. Which ultimately created a dreamy outcome for our picnic to take place in!
In comes our little egg hunters! Nicola, Michelle, Liam, Willa and William! All enchanted by their surroundings, they could not wait to devour a sweet or two!
chocolates galore!
Where to look first! The kids were spoilt for choice with Koko Black's Easter range! Their delectable limited edition Easter chocolates looked too good to eat! Not only were they the cutest addition to our table setting, but made the cutest eggs for the kids to hunt! They couldn't contain their egg-citement!
A mixture of kinds of chocolate kept everyone happy, with a crowd favourite being their Hot Cross Bun Bites! A melt in your mouth moment, sparking joy from one bite!
I Like Areoplane Jelly!
No picnic is complete with a fun little treat like Aeroplane Jelly! Little Nicola couldn't wait to devour her own little pot! These make great additions for picnics, for school or even a little treat for the kids! Four delicious flavours allowed for the kids to enjoy their preferred flavour in an easy, ready to eat snack!
The bright colours from the orange, blackcurrant, strawberry and raspberry flavours allowed them to tie in perfectly with the colours used in our styling! A bright and classic dessert to be enjoyed by all!
It's Picnic Season!
The trouble with picnics are that the rugs are never big enough! The bright and colourful designs that Picnic Season offers is the perfect solution not only for big gatherings but is also a modern approach to the overused tartan printed picnic rugs!
Locally owned and from Geelong, these rugs create a bold addition to your picnic! Easily cleanable too, no chocolate stains to be found here! Kids are able to be as messy as they please! These statement rugs allowed for the kids to kick back and relax - with a chocolate or two!
Not only did the Easter Bunny leave chocolates, but he left sweet, delicious treats too! The bright and colourful cakes and doughnuts were by Seed & Coat. Whilst these adorable bunny biscuits were by Petite Cookies! The kids had to hop to it before the desserts were all gobbled up!
Our pastel balloon garland was created by Sofifi Events, whilst the gorgeous floral installation was made by the talented Grown Florist! Both beautifully tied in to our pastel party! Pastel Baby Breath danced throughout the garland, ultimately aiding the creation of this blissful, whimsical creation!
The adorable mini-people-friendly table and ghost chairs were from Sophia & Co Party hire! They were just the right height for the kids, and the elegant chairs tied in seamlessly to our design.
Eggsquisite egg collecting bags, bunny prints, pin the tail on the bunny and wooden hunt pegs were supplied by Stuck On you. They provided o-so-much fun for the kids! They were able to follow the rabbit food prints to the Easter Bunny himself! And what goodies he had! Exchanging chocolate for carrots, all were enthralled with their goodies!
Our guest bunny and fairy assistant from Little Party Faces entertained the kids to the MAX! There was carrot feeding, balloon tying and of course hunting for Mr. Rabbit's chocolate eggs!
Ethically sourced brand Oobi provided bright and cheery outfits for the girls to explore in! These fun outfits had a mix of feminine prints and adorable colours! Perfect for the Easter Holidays!
Whilst the boys were dressed in Camino Kids! These cool, calm and collected pieces gave the boys some edge and were fuss free for them to wear! These functional and practical clothes are by some of the most popular kids brands like Vans, Bonds and Timberland! Camino Kids offer price match guaranteed on these brands as well, so there's no worries to be had if they get a chocolate stain or two on them!
Bento Boxes by Little Lunchbox Co incorporated into our Easter picnic seamlessly! Contrasting beautifully with Picnic Season's rugs, these vivid boxes were able to be jam-packed full off the greatest snacks! Bliss Balls by No Added, Aeroplane Jelly's to-go tubs, fruit, crackers, and so much more!
There would be room to fit a choccy or two in there as well once the Easter Bunny came!
Little Lunchbox Co has made Easter gift-giving easy this year! A perfect gift to take out on an Easter hunting excursion. Using the code 'Ohitsperfect' will give you 15% off their Bento Boxes! HOP on this great deal!
A pleasing party every-BUNNY! The OIP team wishes you the happiest of Easters, and we hope you get to over-indulge in chocolates galore! We know we will!
Vendors
Venue: Piggery Cafe
Hunt Collecting bags, Bunny Prints, Pin the Tail on the Bunny and Wooden Hunt Pegs: Stuck On You
Kids Entertainment: Little Party Faces
Cookies: Petite Cookies
Desserts: Seed & Coat
Furniture Hire: Sophia & Co Party Hire
Models: Nicola, Michelle, Willa, Liam, William
Jelly: Aeroplane Jelly
Picnic Rugs: Picnic Season
Bento Boxes: Little Lunchbox Co
Bliss Balls: No Added
Balloons: Sofifi Events
Florist: Grown Florist
Chocolates: Koko Black
Girl's Wardrobe: Oobi
Boy's Wardrobe: Camino Kids