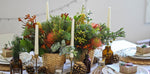 Today we are sharing another fabulous party as part of our luxe for less series. This intimate Dinner Party was styled by the very talented Winnie of Winnie Q Events, who put it all together for under $100.
Here's what Winnie shared about this party;
To kick off the festive season I prepared an intimate dinner for some of my closest friends.
I don't know about you, but I love Christmas – some people say you grow out of it as you grow older but for me it seems to play a more important part of my life as years go by. In this life it is so easy to get consumed with the craziness of work, living day in and day out in a routine. It is the time of year everyone gets together without work on their minds. It is when home made recipes are brought to life, prepared slowly together whilst sharing a couple of drinks with the closest people around you. It is time when the houses start to glow with lights and familiar carols are played and sung. You can read about more about the party planning here.
This dinner was very special to me as it had been a while since I've had a chance to spend some quality time with my friends. Thank you to my amazing sister in law who helped prepare the most delicious Christmas feast which included a Christmas cheese platter, Roasted Pork with Brown Rice, Roasted Capsicum with Parsley and Cashew Stuffing
Green Beans with Cranberry, Candied Bacon and Goats Cheese and Santa's stuffed Belly Capsicums. We also attempted to make reindeer choc caramel tarts and choc flour-less Santa brownies (they turned out cute in a not perfect kind of way, haha as you can see from the photos below – nailed it).
The little gathering went well into the evening to start the festivities into the next couple of weeks. Wishing everyone of you a Merry and safe Christmas! Winnie
Styling By
Winnie Q Events