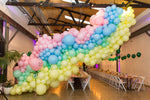 What a week it was for us at OIP! We finally celebrated with our hometown of Melbourne our 10 Year Anniversary Party at one of the best venues in Melbourne,
Two Ton Max
. The plain white canvas and high beams literally made our vision of Palm Springs come to life. We are so excited to share with you all how it all unfolded and hope that those who couldn't be there can at the very least feel the vibes through some snaps from the night. The entrance was adorned with a mixed balloon garland that was put together by
The Little Balloon Bar
, the girls also provided jumbo balloons with shadow text decals, so on trend right now!
Jane & Co. Crafts
went above and beyond providing the footstep decal, staircase decal and wall decals for the celebration. "Hello Gorgeous" to greet our gorgeous guests and "Come in for Good times" was already a great start to the event! Once you enter through the main door, you'd be greeted by Georgia our newest team member, who is surrounded by floral goodness from
Foxy Evergreen
who also made the floral arrangements around our custom Neon Sign from
Neon Garden Event Hire
and also the floral arrangements on the
Brown Brothers
Prosecco Cart.
Lost in LA
who set up the Prosecco cart also provided us with their signature Tuk Tuk which was engulfed in a sea of silk flowers from
Melbourne Flower Walls
which brought it to life.
Next to the Tuk Tuk, was home to the GIF photobooth from
Awesome Photobooths
, which was surrounded by botanical indoor and outdoor plants by
Botanical Events
, who also provided us with the cutest little pink and yellow pot plants to dress the dining tables where guests would be sitting. But that wasn't all there was - if you raise your head above eye level, you would also see the amazing ceiling install by
Bangin' Hangins
. And also the most epic backdrop of the balloon garland curtain from our friends at
Make It Pretty
that spanned over 14 metres in length and over 4 meters wide!
Once the guests arrived, they would check in with Georgia and receive the cutest little custom name plaques from
Embar Designs
in the shape of Flamingos. Then naturally, they'd hit the prosecco cart, then the Taco Cart and custom Sangria cart from
Woofys
with OIP's branding and theme on it! Those tacos were sure a hit! Across from all that food, was some serious pampering for the ladies, massages and nail art all round from
Glam Co
kept our female and even some of the fellas super happy! Now where the party was at, was with DJ Eddie on the decks and Alika on Sax jammin' with him all night from
Rutherford Entertainment
.
After a little sip sip boogie, the guests then headed on into the main dining area, where they were greeted with their very own helium balloon from
Blowout Balloons
and 30 meters of delicious grazing of cold meats, cheeses, dips, bread and canapes from
Grazefully Yours
on the long tables. Once the speeches began, then
Elena's Paella
brought out a variety of vegetarian and seafood paella for everyone to devour. The Dessert Table was also a show stopper, with five amazing dessert designers on board to bring the vision to life;
Torte by Mirjana
for the teal coloured desserts,
Bride & Stork
for the peach coloured desserts,
Love It Cakes
for the yellow desserts,
Baking Workshop
for the mint desserts and
Cherry Cakes
for the Dark Green desserts. Each designer made two 8 inch cakes each, and a variety of mini desserts that were enough to feed the guests who partied with us.
Sofifi Events
provided the cake stands for the cakes and Embar Designs created custom toppers for each designer as a gift to take home as well! Such a sweet touch to the sweetest dessert table! Behind the desserts lived our custom Neon "Oh It's Perfect" and the giant 10-meter balloon garland by
Ready to Par-tea
brought it all together.
We treated our guests with some guest speakers to talk about why they do what they do and what working with OIP has meant to them. We were lucky to have had Monique Milenkovic from
The Cupcake Queens
who shared her testimony about how she started her business many years ago and how she finds time to give back to charity and causes close to her heart. Phoebe from
Lady Melbourne
also shared with us her journey being Australia's longest running blog and how the digital age has shifted throughout her last 11 years of being in the industry. NYX Cosmetic's Marketing and PR Manager, Jessica Nguyen also shared with us her experience with working with OIP, and how it is so beneficial as there is a huge opportunity for "cross-pollination" of marketing and exposure and how difficult it is these days to garner that much organic traction. And one of the best in the business, Wendy from
Blowout Balloons
shared how her business was propelled into being quiet, to after working with us, garnered her so much work that now she is able to focus on that solely. It's always so important to OIP to remember why we do what we do, and that is to inspire and it wouldn't have been the same without these amazing ladies up the front sharing some wisdom and inspiration of their own.
We can't forget to mention our famous goodie bags, we were able to spoil the guests who attended with some custom coloured fairy floss from
Sugar HQ
, soap that keeps on giving from
Thank You Group,
pretty lippies from
NYX Cosmetics
, hand cream from
Empire Australia
, flamingo cookie from
Zippys Kitchen Creations
, custom heart cookies with OIP Turns 10 on them from
By Pop Cookies
and to keep the party going, mini prosecco bottles from
Bevi Prosecco Spritz
.
Our team was also pampered from all the crazy planning and organisation of the event, we were also treated with some gorgeous blow waves from
The Blow
, we tried out their newest look, "The Glitterati" and boy did it shine!
Beyond Your Wardrobe
also generously provided us with the most beautiful dresses from Zimmermann so we could look and feel amazing. We want to say the biggest THANK YOU to everyone who helped us make this event possible and also to all those who attended and those who couldn't but still sent us the good vibes. We definitely feel the love and here's to another 10 years of OIP!
VENDORS
Venue:
Two Ton Max
Taco Cart & Sangria Cart:
Woofys Australia
Grazing and Canapes:
Grazefully Yours
Paella:
Elena's Paella
Desserts:
Torte By Mirjana
,
Bride & Stork
,
Love It Cakes
,
Baking Workshop
and
Cherry Cakes
Cake Stands:
Sofifi Events
Outside Balloon Garland & Jumbos:
The Little Balloon Bar
Balloon Curtain Install:
Make It Pretty Hire
Dessert Table Wall Balloon Garland:
Ready to Par-tea
Helium Balloons:
Blowout Balloons
Entertainment:
Rutherford Entertainment
Wall and Floor Decals:
Jane & Co. Crafts
Florist:
Foxy Evergreen
Custom Neon Sign:
Neon Garden Event Hire
Prosecco Cart:
Brown Brothers
Tuk Tuk:
Lost in LA
Silk Flowers:
Melbourne Flower Walls
Photobooth:
Awesome Photobooths
Indoor & Outdoor Plants:
Botanical Events
Ceiling Install:
Bangin' Hangins
Acrylic name tags, Cake toppers, drink stirrers:
Embar Designs
Goodie Bags:
Thank You Group
,
Sugar HQ
,
NYX Cosmetics
,
Bevi Prosecco Spritz
,
Zippys Kitchen Creations
,
By Pop Cookies
,
Empire Australia
Wardrobe:
Beyond Your Wardrobe
Blow waves:
The Blow
Guest Speakers
: Monique Milenkovic from
The Cupcake Queens
and Phoebe from
Lady Melbourne
Nail and Massage Station:
Glam Co
.