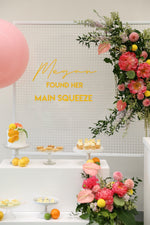 Megan has found her main squeeze! This contemporary Bridal shower has been put together by The Party Style Co. Where the main concept for this shoot was for it to be fresh, bright and fun by introducing a contemporary feel for this bride to be. A citrus colour palette was established, with an abundance of greens, yellows, pinks and oranges that contrasted beautifully against each other. The crisp white helped in tying everything together, aiding in really making sure the brighter colours POP!
The structured look of the backdrop was softened by the beautiful fresh blooms, that help capture the organic nature of its surroundings. A simple and elegant touch that really added dimension and flare.
Cute citrus puns were encouraged! With providing a fun and energetic atmosphere to the day. Citrus Just Got Real sugar cookies were an adorable way to add character to these fun desserts.
This is the first time many of these vendors have worked together! An unbelievable result really shone through. The Party Style Co. recounts how wonderful the experience was where so many talented people were able to combine their skills together to produce a cohesive end result! And how even more wonderful it was to finally put a face to a name of people they had only met through social media before!
I hope this encourages you to add a little more zest in your life! It sure has for the team at OIP!
Concept, Design and Styling:
The Party Style Co
. Bar Table, White Plinths, Clear Round Acrylic Sign:
Luna Twelve
Balloons and Vinyl Decal:
The Confetti Room
Venue:
Little Ginger Co
Cakes:
Give Me Sugar
Fresh Florals:
Violet and the Fox
Mesh Backdrop Screen & Cake Stands:
The Party Style Co.
Desserts:
Dessert Station
Photography:
Rosi Photography