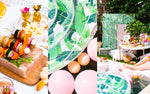 Summer is heating up!!! One way to cool off while entertaining guests is to throw a pool party. Flotation devices are a must have at any pool party, they're always a hit even with the big kids at heart. We have seen an abundance of shapes, sizes, animals and even food. So who doesn't want to float around on a giant piece of pizza?
Refreshing beverages are another must have at any pool party. They don't have to be alcoholic if you don't want to but just a little something to wet your whistle pool side. You can go all out with cocktails, fruit punches and style a drinks cart or keep it simple and fill a bucket with ice to lay your drinks on top.
Check out these pool side entertaining pics and try one at your next event.