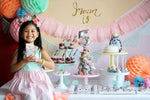 IMAAN'S 5TH BDAY PUSHEEN PAWTY- By Astrid From PaperPlayground
We celebrated Immy's birthday with a theme she chose herself- Pusheen the cat. Being a Leo lion cub herself, we found she always gravitated towards the feline type of themes, and we all love Pusheen in the household and I was more than happy to oblige! We loved every Pusheen character, but decided to concentrate on Mythical Pusheens- Pusheenicorn and Mermaid Pusheen, along with a few other Pusheen characters (Pusheen eating donut- too cute!)
We had so much DIY fun with this party, creating the Pusheen milk carton gifts (filled with chocolates and confetti), making Pusheen bonbons, and of course doing all the rest of the paperie and decorations for the dessert table.
The cake was a stunning 3D Pusheen sitting with her birthday cake, created by La Petite Pops. It was really hard to cut her open but we truly couldn't resist the red velvet and Nutella buttercream waiting to be devoured inside!!
La Petite Pops also created the cutest Pusheen cake pops, and her trademark layered-style chocolate pyramids in passionfruit flavour.
We had an amazing Pusheen macaron tower by Dous Dolce, who created each Pusheen character with perfection. With 16x Pusheen macarons and around 30x normal macarons making up the tower, we were spoilt by choice with macaron flavours in chocolate, green tea, raspberry, Nutella and vanilla. They were all equally delicious!
Every dessert on Immy's dessert table was truly special, and Sugar Bee Cakes' Pusheen cookies was no exception! We also loved the Unicorn Jars that Hey There Sugar created; layers of cookies and cream, salted caramel, rose mousse, ube mousse, topped with chocolate crumble, mini macaron (macarons by Nat Letr), edible star confetti and chocolate shards, it was truly spectacular! The shooting star dessert spoon we DIY completed the look.
All desserts on the table was made extra pretty sitting on Pretty Pedestals cake stand and marble platters. We decorated with a gorgeous pink feather bunting and honeycomb balls from Ruby Rabbit Party.
We also brought in some cupcakes and goody bags for the kids in her Kindy class so no one misses out!
I'll never forget her face when she saw the table and all the desserts for the first time! Makes everything worth it - every single time!
Vendors:
Concept & Styling, paperie, chocolate bars, bonbonieres, photography
PAPERplayground
Dress Cotton On Kids