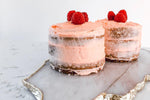 Of late we have been a 'tiny' bit obsessed with mini cakes thanks to the new iso menu at Burnt Butter Cakes. These cakes are the cutest little addition to anyone's afternoon tea table. We thought because everyone has been getting back into the kitchen of late why not try your hand at your very own mini raspberry vanilla cake. Perfect for 4 people as an afternoon treat or dessert. Just in time for Mothers Day celebrations!
INGREDIENTS:
CAKE -
1 1/2 cups plain flour sifted
2 tsp baking powder
1/4 tsp salt
85g unsalted butter room temperature
3/4 cup granulated sugar
1 large egg room temperature
1/2 cup milk
1 tsp vanilla
BUTTERCREAM -
All Natural Buttercream Icing Mix Vanilla 250g
150g softened unsalted butter
3 tsp water
few drops of red food colouring
JAM -
4 tsp of your favorite raspberry jam
INSTRUCTIONS:
CAKE -
Preheat over to 170C and grease three 10cm round cake tins and line with grease proof paper. We purchased ours from Kmart, they were $2.25 each.
In a small bowl whisk flour, baking powder, salt and set aside.
Cream butter and sugar on med-high until pale and fluffy. Add the egg and mix until combined. Add the vanilla.
Alternate adding flour mixture and milk, beginning and ending with flour. Fully incorporate after each addition.
Divide batter evenly among the cake tins and bake until a tooth pick inserted comes out clean, about 30 mins.
Cool in tins for 10 mins, invert and cool completely on a wire rack. The outside of the cakes should have formed a soft crust and slightly sticky to the touch.
BUTTERCREAM -
Yes! We cheated here. Found a new CSR product at Woolworths, All Natural Buttercream Icing Mix Vanilla 250g. Only need to add butter and water! How easy is that? We also added a few drops of red food colouring to make the icing OIP pink!
Using an electric mixer, beat 150g softened unsalted butter until pale
Gradually add buttercream icing mix and 3 tsp water, beating continuously for 3-5 mins
ASSEMBLY -
Using a serrated knife, cut each cake in half horizontally.
Place a cake layer down and add 1/3 cup buttercream on top, spread evenly. Add 1tsp raspberry jam on top of the buttercream and spread evenly. Place another cake layer on top and repeat the process, finish with the buttercream on top and fresh raspberries.
You can easily make this recipe gluten free by using flour, baking powder that is gluten free. The buttercream mix from CSR is already gluten free! Deliver one mini cake to Mum and keep one for yourself!