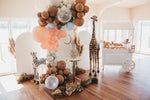 Let's go on a safari ride! All aboard as we enter Ruhan's 5th birthday party! Watch out for the tiger!! Ruhan has celebrated his birthday with this engaging, tactile, Safari party! The adorable and interactive decor of this styled party has truely made it a wild one!!
Organic hues of browns, eggshell blue and oranges created a harmonious colour palette. Working with the colours of the animals, every detail of the styling has tied together beautifully. The rustic, earthy tones has aided in the creation of this safari party. With hints of gold to bring a deluxe ambience to the party!
The height of the giraffe complimented the height of the balloon garland beautifully, truely giving this party a larger-than-life feeling! Whilst Pampas Grass added a gorgeous texture to the party, nothing too feminine for this masculine styled party.
We hope you enjoyed coming on this wild safari for Ruhan's 5th birthday! A party that has sure turned heads - not only to keep an eye out for the animals, but for this unique and beautiful colour palette!
Concept, Design, Styling & Florals: Set In September
Props: Elegant Tea Time
Balloon Installation & Signage: Balloon Couture
Tiger Prop: The Treasure Room
Cake: Ekat's Cakes and Chocolates
Grazing: The Grazing Box
Dessert Cups: Make It Yours Desserts
Photography: Loop Studios