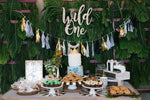 Oh, please don't go! We'll eat you up! We love you so! It's Tobias's WILD one birthday! And to celebrate this monumental occasion, this beautifully styled Where The Wild Things Are themed birthday has been created! The King of all the Wild Things has definitely celebrated like the king he is! Sweet treats galore and an abundance of activities to enjoy - what more could this tiny tot need!
Let the Wild Rumpus Begin! This enchanted oasis has achieved its forest-like appearance through the lush greenery, use of plants and foliage! Hues of gold and crisp whites popped against these dark, mossy greens. The luxurious colouring of the styling, has executed the theme to a T! Perfect for any wild one,'s celebration!
The prestigious execution the adorable media wall, has really added charm and an immense amount of character! Many of these DIY items have really contributed to achieving such an accurate representation of the Where The Wild Things Are theme! The ring toss, colouring station, and the tiny tables for the tots to sit at, created this beautiful oasis the little ones could really enjoy!
This stunning party reiterates that inside all of us is a Wild Thing! So here's to never growing up! Well, at least not too fast!
Styling, Desserts Table, Media Wall, Infographic, Teepee: Party Nest
Cake: Cake Shop By Sonja
Game Booths: Koko Meee
Photographer: Photography By Lianne