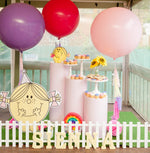 To say Helen from The Sugar Topped Table was excited is an understatement. She was so over the moon when Sienna's Mum approached her to style this super fun & colourful birthday for her little sunshine!
She opted for a pastel colour palette as opposed to the bright yellow of the Little Miss Sunshine character. This approach added a more softer, girlie touch to an already cute theme!! Burnt Butter designed and baked a Little Miss Sunshine 3D cake, matching cupcakes with a buttercream swirl and personalised cookies with Sienna's name, little sayings and Miss Sunshine herself. So cute!!!
Concept & Styling:
The Sugar Topped Table
Cakes, Cupcakes, Cookies & Cake Stands:
Burnt Butter Cakes
Freestanding Little Miss Sunshine:
Emma Smith Event Stationery
Giant Balloons:
Partycles Balloons & Party Supplies
Pastel Pink Plinths:
The Big Letter Co.
Photography:
Lee Bird Photography
Venue:
Hampton Children's Playhouse