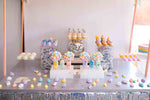 Aloha! Get your lei ready. This party is embracing all the Hawaiian feels. Welcome to Shop Sweet Threads pop-up! This kid's boutique has all the sweet, sweet threads and now a shop full of sweet, sweet treats!
The theme was 'Tutti-Frutti Disco Kutie (Kawaii)!' We couldn't get enough of the pastels which was inspired by the store colours. The theme was perfectly designed by '50 by 50 event design' with details mimicking the vintage Hawaiian collection designed by Se Mari Handmade.
Balloons lined the ceiling, disco balls and mirrored decorations were scattered around the space to embrace the disco vibes.
Pastel colours infused the cut-out clouds, stars, palms, and rainbow sun-rays! And at the end of the rainbow? Delicious pastel coloured treats to continue the theme. Cupcakes, macaroons, cake ice-creams, and pastries filled everyone's tummies. Let's not forget the wall of doughnuts! All designed and made by Sugar Crush Sweets to taste amazing and look just as amazing!
Do you fancy a lei? Well, there was a lei making table for everyone to incorporate their own styling and creativity. It was a hit with the kiddies who could design their very own accessories to disco party in - Kawaii style!
Everyone went home, tummies full of treats, lei around their necks, and smiles on their faces!
Vendors:
Design: @50by50eventdesign
Pop Up: @shopsweetthreads @semarihandmade
Desserts: @sugarcrushsweets
Acrylic Signage: @creativeamme
Balloons: @up_up_intheair
Photography: @nathan_and_paige