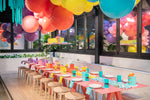 Tommee Tippee set a party perfection challenge to create an epic celebration to show off their meal time saviours range, the new No-Knock cup!
We started the planning stages with their super hero theme, the clever cup and a few colours in mind. Tommee Tippee invited Melbourne's most influential Mumma's and their cubs to try, test and enjoy a special brunch together.
Venue was first on the list; we needed a gorgeous light filled space that we could create a fun environment but that was beautiful in its own right. The food was yummy and the helpful staff helped make the party run seamlessly. We fell in love with the private function space with polished concrete floors, an abundance of inside plants and amazing pink dining tables that were totally OIP!
As the party guests arrived they were greeted with a personsonalised super hero cape complete with matching eye mask. It wouldn't be a complete experience if they didn't get changed into their costume using the custom Tommee Tippee phone booth. The kids loved putting on their capes and pretending to be super heros for the day!
They then moved over to the floor photo op which was a large padded city scape for the kids to pretend that they were flying! They all took turns to pose for the camera and show us their best super hero poses.
After working up a sweat and an appetite the party goers chose what they wanted to eat from the brunch table and sat in the dining area! We styled this table using colour blocking as the main feature, then added a balloon ceiling, matching floral table runner, custom hashtag napkins, coasters and a floating rectangle cake decorated with mini desserts.
To keep the kids busy we had super hero children entertainers and a colouring in corner. The Mums could use this time to pose in front of the streamer media wall and show off the No-Knock cup.
As the event came to an end each family got to take home their very own mini cake to enjoy the party feels at home.