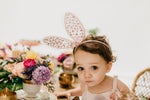 Down the Spring Time rabbit hole we go! Spring time blooms are in an abundance for this Alice In Wonderland themed party. This tiny tea party has been put together for these three little mini's to enjoy. Bountiful florals, sweet treats and eggs to hunt for!
The beautiful, lush greenery has worked in beautiful harmony with the bright blooms. Whilst the tulle chandelier resembles the Croquet Flamingos in the famous movie! Which has really put a Mad Hatter twist to this adorable party!
A collection of vintage tea cups, saucers and serving ware has added a zany touch to the styling of this tea party. The table setting made complete with 'Eat Me' and 'Drink Me' tags.
The finishing touch to this Easter Tea Party would have be the Easter Egg hunt of course! The girls had so much fun hunting for glitter Easter eggs and dancing in a shower of bubbles!
Design & Styling: MAC+mini
Rentals & Studio: Witty Rentals
Florals: Flower Child San Diego
Pastries: Sweet Nothings Cakes
Calligraphy: Kimberly L Designs
Photography: Rochelle Cheever
Wardrobe: Rainey's Closet