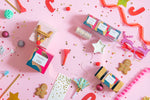 At Oh It's Perfect we love to party, and truly believe there is a reason to celebrate a little every day, to feel loved and give love, to enjoy the little pleasures of life, to pamper yourself and those who we hold dear to our hearts…hence our motto, "Celebrate Every Day".

When it comes to finding joy in the little things, taking a long bath, lighting my
favourite candle
and reading a book breaks the busy for me. So every year for Christmas gifts, candles and luxurious body products are on the top of my list. I love receiving them and I love gifting them.

For me a beautifully wrapped gift adds so much to the gift giving experience, so I will share three of my most favourite ideas to personalise your gift wrapping in unique and fun ways, that you can easily pull off within minutes and do not require you to be Martha Stewart.
1.Cinnamon Stick Reindeers:
You just need 3 cinnamon sticks, 2 googly eyes, one red pom pom and a hot glue gun for this. Assemble it in two minutes and attach to any gift. I used this to wrap all the
Circa Cinnamon Sticks Candles
…. it's just a perfect match..

2. Yarn/String Christmas Tree:
You need bakers twine (yarn/ribbon or string) and one pom pom for this. Just wrap the string around the gift in a triangular shape ( so it looks like a tree) and seal in place with glue. Attach a pom pom up the top. And you are done. It just takes a couple of minutes, and is an inexpensive way to create the wow factor. I wrapped the
Circa Handcare Gift Sets
this way.

3.Christmas Baubles:
You need a string, glue gun and Christmas baubles for this idea. All you have to do is string the baubles through and wrap around your gift. Hold them in place by gluing to the wrapping sheet at various spots. You can use the baubles in contrasting colours to make it look more interesting.

In Collaboration with Circa Candles