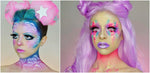 It's one of our favourite times of the year today - Halloween! This year, we thought we've seen it all here at OIP, but of course it would be naive of us to think that in this creative industry. The best thing about being around people who are creative is, there is never a limit to anything. Anything is possible and if you can think it, visualise it - then of course you can do it! Below are some amazing inspirational beauty bloggers who have the ability to use their skills and completely transform themselves into some spooky inspiration Pinterest worthy beauties and show you all what
Halloween
Make Up trends are hot this year!
BLOODY GLAM
It doesn't always have to all gore, bloody, zombies and vampires, who said the prom queen couldn't come back with a vengeance or the ice queen turned zombie couldn't be a thing? Add crystals, bronzer, and highlighter to really modernise this over-done look to add that extra bit of magic to any Halloween look - Just don't forget to add the blood!
PENNYWISE INSPIRED
Thanks to the recent release of Stephen King's remake of "IT" - beauty bloggers everywhere have been gung-ho mad on recreating their best rendition of Pennywise, the creepy clown. Make it fun with splashes of colour, neon stripes and plenty of detail and textures. The trick to creating a successful look is to choose 2-3 colours and stick to it, to really pack a punch.
MODERN SUGAR SKULLS
A homage to our recent Day of the Dead themed
Halloween editorial
, sugar skulls will forever be a favourite of ours. The possibilities here are endless - for the pretty-not-so-crazy look, opt for half a skull and use lighter tones to contour instead of black. Soften it up with some feminine touches like glitter, diamontes, flowers and holographic shapes to modernise and keep it interesting!
MELTING WAX SKULLS
Another fun variation of the sugar skull is the melting wax skulls, this look is proving itself ever so popular as it has a 3-D element of actually applying special effects make up to create the "melted" look. To really add an element of finesse, add a pastel coloured wig to complete this creepy yet cool look.
SWEET TOOTH
And lastly, it isn't an OIP featured blog post without a bit of a sugary treat, this year hot on the trends list is of course to look absolutely adorable disguising yourself as candy. Pink obviously is the colour of the year and this look it is essential in order to replicate that oh so delicious look. The possibilities are endless this year and we hope you have a delightful time coming up with some fun looks!
Happy Halloween!
SaveSave SaveSave