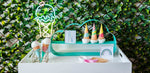 Your little one's birthday is coming up so what better way to express the joy and delight they have brought into your lives than with a sweet sunshine and cloud themed party! Being inspired by the
sunshine plates & cloud napkins from Ruby Rabbit Partyware,
Kendra and Som show us how it's done with their son, Kai's, 2nd birthday!
2 Scoops Ice Cream Bar
As Kai's dad, Som, is an Ice Cream maker and Kai's favourite thing to do is visit him at the Ice Cream shop they had a little shop front called '2 Scoops Ice Cream Bar'
It was dressed with sweet paper ivy by Amanda May Lee & was the perfect spot for photos & playing!
Playful Stationary & Signage
The Ivy Letter Shop designed all the signs including the Ice Cream menu, 'You are our sunshine' signs & little graphics for the kids to hold up in their photos with 'I am loved' and 'A little ray of sunshine'.
Sweets & Treats
Burnt Butter made the sunshine cake in Kai's favourite flavour, chocolate! The cake will forever be remembered by the family because it was just so beautiful! And, it made such a big impression on Kai that he still talks about it!
The custom sunshine & sky coloured marshmallows were from Black Pantry and
the grown ups took home their handmade wagon wheels in white & dark chocolate.
Please see below the list of vendors used for this party: