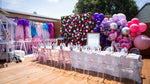 Esa from Dream Catch Events in New Zealand has thrown the most gorgeous party for her daughter. Hannah has been obsessing over "My little Pony" since forever! So once she saw the My Little Pony movie Esa knew she wanted to throw her the most magical party a little girl could ever dream of! Welcome to Hannah's Magical 4th Birthday in Ponyville.
So many amazing over the top elements from Hannah's party: feature wall, cake and dessert station, My little Pony Freak Shakes Bar, balloon garland and Kids Activity Stations.
The feature wall/backdrop was adorned with the most beautiful shades of pink, blue, silver and purple streamers. They had a variety of delicious sea pony & heart dessert cups, meringue pops and tarts by Macaron Heaven. There was an awesome floor decal in the center. Also featured was a cart with a Twilight Sparkle My Little Pony cake, customised chocolate bars and My Little Pony meringue pops.
The bar station had pony Freak Shakes which were colourful and the Kids devoured them. They were over flowing with lollies and sprinkles. Alongside the cart was an awesome donut wall with mouth watering pony donuts.
Also featured, was a gorgeous balloon cloud with a pink pie "kid size' character balloon which Hannah loved and couldn't get enough of. There were also personalised jumbo balloons with Hannah's name & pony characters.
The Kids table setting had the most stunning mini peacock chair with ghosts chairs and trestle tables. There were personalised silver party box favors with matching plates and napkins.
The Kids entertainment was a beauty parlour station with 3 activities: Pinky Pie Makeup Station, Rainbow Dash Hair/Hoof station and Twilight Sparkle make your own jewelry station. Kids enjoyed playing around with nail polish and doing their own make up and adorning themselves in crafty jewels they had made.
Event Stylist/Concept, streamer wall and Ideas by:
Dream Catcher Events NZ
Photography by:
Eilish Burt photography
Thank you tags, welcome sign, floor decal, balloon decals, mirror Decals, activity signages by:
Millies Custom Designs
Pinkie Pie & My little pony Balloon install by:
OMGness Styling
Invites & choc bars designed by:
Eve and Co
Kids party bags,Tableware by:
Ruby Rabbit
Photobooth signage by:
Little Celebrations NZ
Kids tables by:
OMGness Styling
&
A Little Confetti
Donut wall & ghost chairs by:
A Little Confetti
Ghost chairs, peacock chair by:
Partini Parties
Cake by:
Sweet Bites Cakes
Pony mirror wings on cookie cake by:
Communicake It
Pony Dessert Cups, pony donuts, pony meringue cake pops and pony meringue tarts and number cookie cake by:
Whiskaway Desserts
Macaron tarts by:
Macaron Heaven
Kids Freak shakes by:
Harvest and Gather
Hannahs flower crown by:
Jardinbell
Flower wall by:
Siennareidnz
Jumping castle/face painting/balloon twister by:
The Fun Team