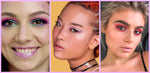 They say that eyes are the gates to your soul. This spring party season, that seems to be the number one featuring trend and today we look at 3 different ways we can accentuate the gates to our souls. From magnified magenta (seems to be the colour of the season!) featured heavily by Huda beauty and Anastasia Beverly Hills to glitter-bomb goodness playing with texture and iridescent colours and pigments from Mac. It looks like it's going to be a colourful and fun Spring!
Magnified Magenta Eyes
Achieve this look by focusing on red, pink, magenta, auburn hues - build it up starting with the lightest tone closest to the eye and building your way out depending on the shape of your eye with the darkest shade. Blend, blend blend - especially in the crease of your eye and make sure you line it with a incredibly dark pigmented pencil liner. Lightly touch up your brows and keep them natural and not too shaped!
Since the feature is the eye, the trick is to also neutralise the lips, find a nude lipstick or lipgloss that won't draw attention away from your beautiful eye make up. Keep your complexion and lips neutral and dewy. Use highlighter to accentuate your cheekbones, bridge and tip of your nose, cupid's bow and viola - absolute goddess!
Bedazzled Bedroom Eyes
We love the disco party eyes trend! Make it current and fun with sparkles, glitter and bright colours! This look is not for the faint hearted - calling out to all the girls who are just pure extra! It's a fun, young and exciting Spring look.
Keep your complexion simple and bare, eyebrows natural and lips glossy - but the best bit about this look is being able to dress up other parts of your body! Add glitter to your nails, in your hair (corn rows!) or glitter on your collar bone to add a fun pop of sparkle.
Mermaid Mix-a-Lot Eyes
And my favourite look of the season - Mermaid colours have never looked so fun!
Team up turquoise, greens, opals, amethyst, magenta, red, pinks! It's a festival of colour. Wear it as a statement with dewy skin, prepped and primed eyebrows, and both nude or bold lips! Hair up or down. This look is definitely versatile, fun, and packs a real punch!
Keep your contour simple and not too heavy, and a touch of highlighter on the bridge of the nose, the tip of the nose and your cupids bow and viola! Ariel ain't got nothing on you!