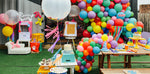 Doggos, puppers, pooches- also known synonymously as little furry balls of joy, dogs have an unparalleled place in the hearts and homes of many people. In fact, so much so that many dog owners even prefer the company of their canine companions to family or friends. I mean, it's not hard to imagine why! Who else is low-key STOKED to see you come home every day? Who else looks at you with innocent eyes of pure love and admiration, always ready to put you first. Who never gives you excuses or lets you down? You better bet that no matter what, man's best friend has got your back!
So when it comes to celebrating another year of life spent with your furry sidekick, it can be hard to contain your excitement. While the doggo remains blissfully unaware that she or he has another candle on the cake, it's a perfect excuse to go dog-crazy and spoil your poochie pal and give thanks for being the most reliable friend humans could ask for. Here at OIP, like any rational, wholesome human being, we go a little bonkers for dogs. With their widdle faces and tails, we can't resist the urge to squeal, squidge and pet them, each and every time we see them! In light of this, we decided to go big and throw a birthday bash for Dutch's 6th birthday!
Dutch, the birthday boy and Great Dane, was joined by some of his furry friends at The Dog Cafe, including Lola the Sausage, Sooshi the French Bulldog, and Kroshka the Pug.
The birthday boy was tickled pink with the big and bold colour palette, with the bright balloon garlands by Blowout Balloons really packing a punch.
We couldn't have our doggy models looking daggy for Dutch's big day, so luckily Big and Little Dogs came to the rescue and decked them out in adorable collars, leads, bowties, and harnesses with all sorts of patterns, like watermelons! We know- we told you they were adorable!
And, of course, what kind of pooch can make a fashion statement without a cute bandana to pull off their look? Well, thanks to Bones Society, they were sorted!
Dutch, Lola, Sooshi, and Kroshka sure know how to party, but thankfully our models could take a quick rest on some ultra stylish dog beds by Furry Peach.
You know that look of longing that your dog gives you when you're trying to peanut butter your toast in peace? And the second you leave the room for even a moment, your four-legged friend will go in for the kill, in the form of a cheeky nibble or lick. With the help of Pics Peanut Butter, we wanted to play upon this and feature a 'Lick Me' toast piñata for our guests to enjoy! And boy, did they!
The partyware, provided by Party Kit Co, was simply perfect and accompanied all our delicious doggy treats made by Supaw Pet Bakery and ice creams by Golp. Just look at that birthday cake! You'd swear they were made for humans!
But we couldn't let our plus-ones go hungry, could we? To satiate the sweet tooth of our humans,
Bake and Co
created some gorgeous cake pops, cookies, cake, and cupcakes, accompanying some adorable chocolates by
Cookie and Co
, and some sausage dog cookies by
Love Lauren xx
.
The kissing booth, made with the help of Alpine Events Co, along with the other stationery were simply gorgeous!
The neon dog light, made by Neon Republic was the perfect addition to the shoot, and so similar-looking to little Lola! Pet Pouch provided some cute dog paw print bags, in a variety of colours such as red, beige and blue!
Venue: The Dog Cafe Models: Kroshka the Pug, Dutch the Great Dane, Lola the Sausage, Sooshi the French Bulldog Dog Beds: Furry Peach Peanut Butter: Pics Peanut Butter Collars, leads, harnesses: Big and Little Dogs Partyware: Party Kit Co Bandanas: Bones Society Stationery (including Kissing Booth): Alpine Events Co Neon sign: Neon Republic Balloons: Blowout Balloons Paw print bags: Pet Pouch
Desserts:
Human desserts:
Bake and Co
Doggy desserts:
Supaw Pet Bakery
Pink sausage dog cookies:
Love Lauren xx
Chocolates:
Cookie and Co