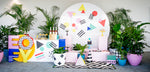 With EOFY just around the corner, offices around Melbourne are getting a little hectic. Between trying to finish those last few reports, shoot through that final email and make that balance sheet actually balance, there doesn't seem to be much time. But, as the old adage goes, "Work Hard, Play Harder", and, at OIP, we have certainly done that. We are seeing out the end of the financial year in the ultimate 80's style!
Inspired by the Memphis Design Group, the designers behind the geometric, edgy, colourful and modern style of the 80's, our EOFY Editorial certainly packs a punch.
Steph Dixon
,
Jamie Azzopardi
,
Patrick Miller
,
Ruby Bellinger
and
Stacie
partied away the day with
Brown Brothers
Prosecco Spritz.
Willow Tree Events
brought the goods (AKA furniture) to set up our dessert station and drinks bar. Our office, of course, demanded greenery which
Botanical Events
brought to the party along nestled in funky, geometric pots.
The Design Planner
added the perfect Memphis-themed touch with custom 3D letters and shapes as well as groovy decals.
Our ladies had to be office AND party ready so funky threads from
MVN
were a no-brainer. Shoes from
Alias Mae
and
Edward Meller
allowed the ladies to party away in style.
She Lion
solved the ever-important problem of finding a chic bag to look fab with enough room to carry your lunch! We could never forget the gorgeous gold-plated earrings provided by
Mikasan
.
Mercedes-Benz Toorak
made sure the whole office got to work in time, and whilst looking cool.
Miss Ladybird Cakes
fuelled our workers' party antics with trendy geometric cookies, macarons, cupcakes, delicious cheesecake pots and a custom two-tiered buttercream cake, complete with hand-cut chocolate shapes.
Everyone knows every office needs coffee to survive and thank goodness for
Nespresso
! Their coffee geniuses provided us with a super sleek machine, some gorgeous, gemstone-coloured coffee pods (totally our vibe!) and swish espresso cups. Our workers were definitely able to party on after their coffee hit!
Energized by good times, coffee, sugar and prosecco, our office is definitely ready to jump into the next financial year head first! Team OIP thanks you and welcomes you FY 2019!