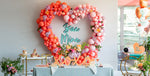 Grab your gal pals and celebrate in style! Date or no date, your friends will always be there to share a drink or two with. OIP has kicked off our Valentines Day celebrations early, and what better way to do it than with a girlfriend, or two! This celebration of friendship has been shared over a delicious brunch setting at Rivers Edge Events, overviewing the beautiful Melbourne South Wharf. Bubbles, cocktails and delicious treats were in an abundance!
A brunch cannot be complete without a lavish table setting! The napkins and table cloth have been provided by Table Art Event Hire. A beautiful base that aided in contrasting the bright and fun colours of the acrylic signage, 'Bae Mine' decal and personalised gift boxes by Jane & Co. Stunning flowers were provided by Botanics Melbourne, which not only aided in adding height to the table decoration but also added an organic element to the ornate love heart balloon garland by Ready To Partea.
DESSERTS GALORE & GETTING GLAMMED
Spoilt for choice our gals Merrin, Jess and Zoe indulged in #girlgang inspired treats from Baking Workshop. Kissable cookies, a delectable cake and the cutest cupcakes garnished our desserts table. A great contrast to be had with mini burgers and waffle tower provided by Rivers Edge.

Pretty pink eye make up by Sarah Fritz Make Up gave the girls a modern pop of colour that tied in perfectly with the girly Galentines Day theme. Whilst soft waves created by Hair Couture By Steph aided in achieving the girl's glamorous look for their celebratory brunch.
BUBBLES & BARRELS
Wine, perfume, make up and shoes - gift giving cannot be complete without them! Wine from Pord Australia has made the classic cask of wine a lot more stylish! These unique mini barrels are not only an art piece themselves, but provide three litres of wine to share (or not to share) between you and your friends! Paired perfectly with Plumm Wine Glasses, this Melbourne based glassware brand come in an abundance of shapes and sizes, to conveniently aid to any occasion!
TOUCH UP PLEASE!
Make up is always a great gift to give your gals, so why not try Mecca Max's Summer Dew Beauty Bag! This universal pack will give your bestie all that she needs to chuck in her handbag for on the go. An illuminating primer, beauty balm, bronzer, Girl Boss lipgloss will sure keep your beauty needs at bay!
FRESHENING UP WITH FRAGRANCE!
Fragrances were provided by Lore Perfumery, a local Melbourne business who specialise in niche perfumes. Their fragrances will sure be a sensory delight! These unique fragrances will please any nose, whether it be light and fresh, or deep and sensual, there's a fragrance for everyone. An OIP top favourite was definitely Juliette Has a Gun by Lady Vengeance. This elegant but thorny floral fragrance is a sophisticated scent that will leave you smelling ravishing. Notes of Bulgarian Rose, Patchouli and Vanilla will leave everyone wondering what scent you're wearing!
Not only providing the up-most quality fragrances, but Lore Perfumery cater to all your luxury body and bath products too. The gorgeous packaging of their lotions and scrubs make beautiful gifts for loved ones and friends, and will add a lush accent to any bathroom.
SLIDING IN STYLE!
Handmade leather slides from Holly & Hide were a stylish and enjoyable choice of shoe that the girls were able to comfortably wear all day! These fun and fashionable shoes made a lasting statement, with their loud prints, vivacious colours and luxe textures! Made of the highest quality material these comfortable slides are not only fashion-forward but allow you to ditch the heels! No need for the classic flip-flop to replace your heels when you're feet get sore, you'll be wanting to wear these slides from the get-go!
VENDORS
Creative Concept, Styling & Photography: Oh It's Perfect
Table Cloth & Napkins: Table Art
Venue: Rivers Edge Events
Balloons: Ready to Partea
Decals & Signage: Jane & Co
Make Up gifts: Mecca
Perfume: Lore Perfumery
Desserts: Baking Workshop
Flowers: Botanics Melbourne
Make Up Artist: Sarah Fritz Make Up
Hair Stylist: Hair Couture By Steph
Alcohol: Pord Australia
Wine Glasses: Plumm Wine Glasses
Shoes: Holly & Hide