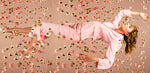 At the OIP HQ, the girls (and even the guys!) are going Gaga over the start of VAMFF already! With so many exciting events that have already occurred, from Myer's Beauty Brunch, live touch ups with beauty and fashion influencers in front of the Myer Windows on Bourke Street Mall to Pip Edwards and Claire Treg's love child brand, P.E Nation - winning the National Designer Awards on Friday. We wanted to celebrate an exciting week in Melbourne Fashion in OIP Fashion by doing what we do best, incorporating a bit of a creative spark, we've created some incredible looks to celebrate the Fashion Week. With the help of two of the biggest and most prestigious Australian fashion labels,
Sass & Bide
&
Asilio
, OIP were able to re-create their designs through our creative eyes. Focusing on colour, tone, texture, structure and overall feelings - we were able to beautifully encapsulate fashion with finesse. With the help of powerhouses
Schwarzkopf Professional
and partnering salon
Heading out Salon
and
Ellie Scarlett
from
Inglot Cosmetics
, we were able to create three delicate yet bold looks. To perfectly pair with all the looks,
Jo Mercer
provided us pumps to match!
TICKLE ME PINK
Our first look is from Asilio, the ruffled, pink, asymmetric suit. The silhouette is structured yet feminine, but what we loved most is the beautiful pink. The colour pink is graceful, romantic and tender. It evokes calmness and yet it is vulnerable - but if pink is your favourite colour (it is ours!) it often means that you posses compassion, understanding and unconditional love.
To create the overall look, we provided the perfect backdrop, with the help of
Petals by Parisa
, rows of pink florals hung delicately from the ceiling. We had to team up this delicate look with an array of delicate treats designed by Theresa of
Bride & Stork
(who also helped us out with our Mother's Day Editorial last year!). Theresa created an array of meringues, cookies, chocolate gems, tarts and most importantly a cake that she recreated through her eyes as a cake designer interpreting the design of this suit from Asilio.
EYE SEE YOU
The second look was also from Asilio, who provided us a two piece matching monochrome outfit, which celebrates the icon of the "eye". The outfit itself also centres around structure and soft feminine ruffles, a real mix of classic and modern, hard and soft - We are really loving the contrasts this season! If we think back throughout the times, the eye is probably the most used symbolic sensory icon that is celebrated in history. It is often referred to as "The Eye of Providence", or the "All Seeing Eye of God", however, more commonly associated with characteristics such as intelligence, light and truth. We can understand why Asilio has chosen such a powerful icon to hero.
At the OIP HQ, we are somewhat also obsessed with this symbol, and it was only fitting that we chose this outfit to re-create in our way. With the help of Stephanie from
Call Me Ginger
(You may remember her from our
New Year's Eve Editorial
), she created a plethora of desserts to celebrate this outfit. Stephanie created eyelash cookies, speech bubble eye cookies, black and white macarons, black on white grid cookies, black mini chocolate blocks, monochrome chocolate bark, white meringue wreaths and the all important signature two tiered cake that she interpreted this look from Asilio to be.
BLACK & GOLD FUSION
Lastly, but not at all the least, was the stunning strapless maxi dress from Sass & Bide. It honoured the classic colours and tones of black and gold. A true fusion of mystery, power, illumination and magic. This sophisticated dress encapsulates elegance and status flawlessly, an accurate reflection of the brand that Sass & Bide has created over the years. This colour combination represents the nurturing aspect of women and their youthfulness. The copper hints on the dress also invoke a strong sense of charisma, artistic creativity and feminine beauty. No wonder, Sass & Bide remains a favourite in Fashion Week's front row.
This gold fashioned look created quite the stir, and it only made sense for us to match it with the work of
Mai from Cayk
(Her work was recently featured in our
Girls' Weekend Away Editorial
), who designed black chocolate pyramids, black panacotta's, mini black cupcakes adorned with gold sprinkles, gold chocolate bark and her version of this Sass & Bide outfit as translated into her art; her two tiered cake paying tribute to the maxi dress. Thanks Fashion Week - yet again, you've been inspiring and invigorating for all of us here at the OIP HQ!
Special Thanks to:
Wardrobe:
Asilio
&
Sass and Bide
Shoes:
Jo Mercer
Hair:
Schwarzkopf Professional
&
Heading Out Hair
Make Up:
Ellie Scarlett
&
Inglot Cosmetics
Florals:
Petals by Parisa
Model:
Ruby B of Busy Models
Desserts:
Bride & Stork
,
Call Me Ginger
&
Cayk