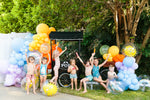 Need ideas for a fresh summer outdoor party? Well then this summer party styled by Beijos Events and But First party is perfect for you! When two amazing stylists collaborate it is always magic, and in this case unicorn magic. This particular summer party is not only fun for the kids but the whole family with the decor, amazing snacks and summer memories made along the way.
Let's start with the popsicles and cookies, these are the perfect summer treats but also customisable and incredibly cute. The popsicle cart done by pacific organic pops, is a great addition for almost any party and will have your guests lining up to get some. The cookies done by Star Bakes are enjoyable not only to eat but to look at as-well in their various designs.
The balloons are a staple of literally any occasion, and in this outdoor summer fest we can see just how much the vibrant balloons enhance the already fun atmosphere and look just #pictureperfect amongst the decor. Speaking of decor, who can miss the large dinosaur and unicorn? Though a dino and a unicorn could not be any more unlike, they manage to look fantastic together and really lighten up every picture. If you weren't inspired already, then don't forget to look at the rainbows, table decor, mini dinos and beautiful flowers everywhere. Also don't miss out on the tiny table and chairs from pottery barn kids , where can I find some in my size?

A day out in the sun is always a bit of fun and this party is making us ready to get out of the house. The decor and snacks are a lovely distraction from the summer heat, and is pulled off with finesse by the designers. However, the elements are not only awesome to look at, but some are customisable and can be adjusted to your liking so it is easy to DIY for all of the summer babes on a budget. Most of all, don't forget to enjoy yourself and have a great summer! Get partying, and don't forget your camera!
Photographer - @billyedonyaphotography
Decor & Tabletop Items -Potterybarn Kids
Flowers - Of The Flowers
Design & Planning - Beijos Events x But First Party
Balloons - Bonjour Fete
Popsicle Cart & Popsicles - @pacificorganicpops
Stir Sticks - Poppy Jack Shop
Cookies - @starrrbakes